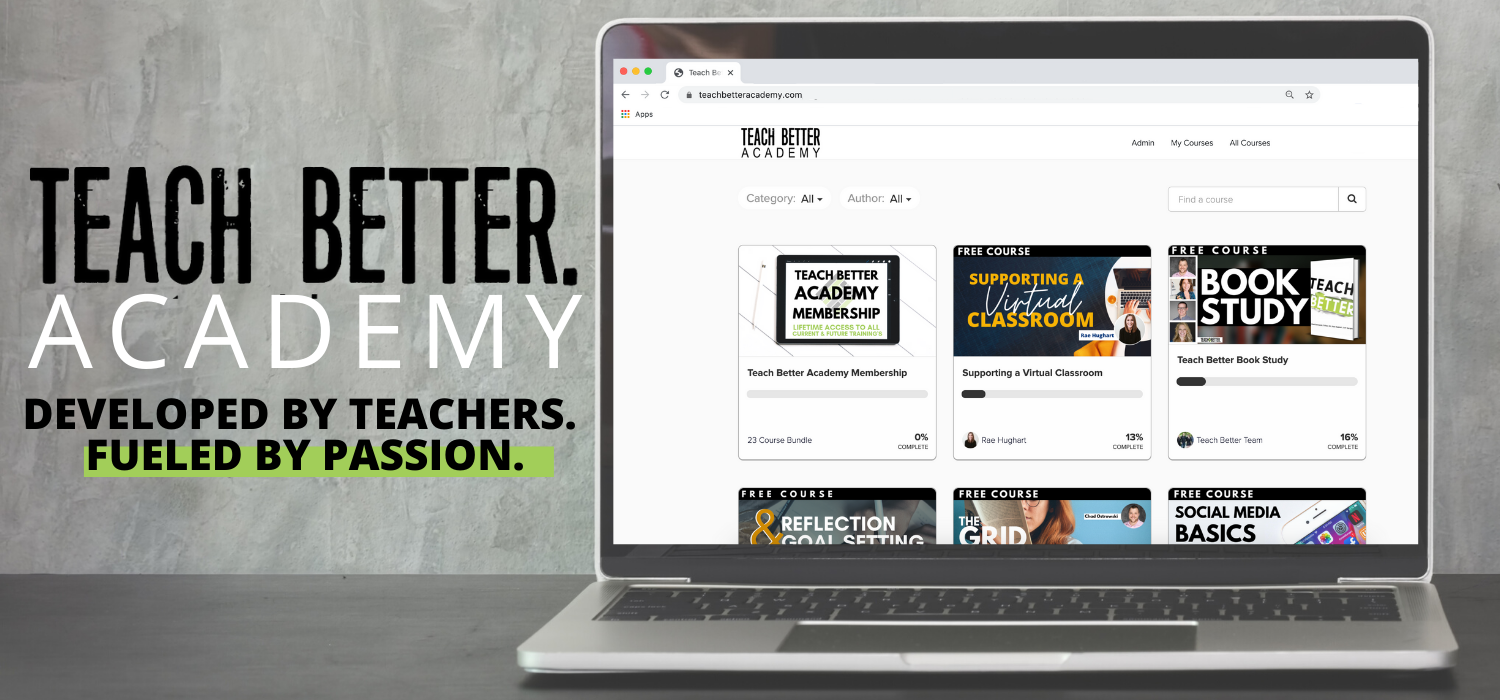 INCLUDED IN YOUR TEACH BETTER ACADEMY MEMBERSHIP
Get instant access to ALL our online courses for just $9/month!
When new courses come out, you'll get instant access to them as well! Your price never changes!
INCLUDES 3 COURSES
MASTERING MANAGEMENT
Master management in your classroom today! This course will provide insight, practical solutions and easy to implement strategies to create a productive, focused, and thriving learning environment for any teacher, instructional leader or administrator.
Topics covered include: The foundations and philosophy of student centered management, strategies and tools to implement, systems and routines, managing through engagement and much more!Improve your classroom management today!
STRATEGIC STUDENT CONFERENCING
Student conferencing is an essential element of the classroom. The question is, when you finally find the time to implement student conferencing, what will you do to make that time as effective as possible - that's what this course is all about!
Join Rae Hughart and Dr. Dave Schmittou as they explore the 5 essential elements of maximizing student conferencing sessions, with the understanding that every educator in every school building, in every community, in every subject area will support students differently during student conferencing - and that's ok!
It's time to be strategic with our questioning and the time we have with students. Fill up your tool box with the strategies you need to make the most of your conferencing times as quickly as tomorrow!
FINDING STUDENT VOICE WITHIN PARENT-TEACHER CONFERENCES
Tis the season! Fall has arrived, classes have begun, and your to-do list is on a never-ending scroll of paper quickly rolling out the door and down the hallway! Leaves are falling, students are learning, and things are finally settling into place. So, can you feel it? Do you know what time it is? Parent-Teacher Conferences.
In this course, join Rae Hughart & Katie Miglin as they explore a multitude of opportunities you have today to involve student voice in the Parent-Teacher Conference process. Whether you are working within an extremely regimented schedule or are as free as a bird to determine how you will communicate with families during this time, choose to involve your students. Register NOW for the multi-module course filled with downloads to get you started on involving students in the discussion, creation, and reflective elements of your upcoming Parent-Teacher Conferences.


Bundle Contents
Showcase courses and coaching in your Bundle.