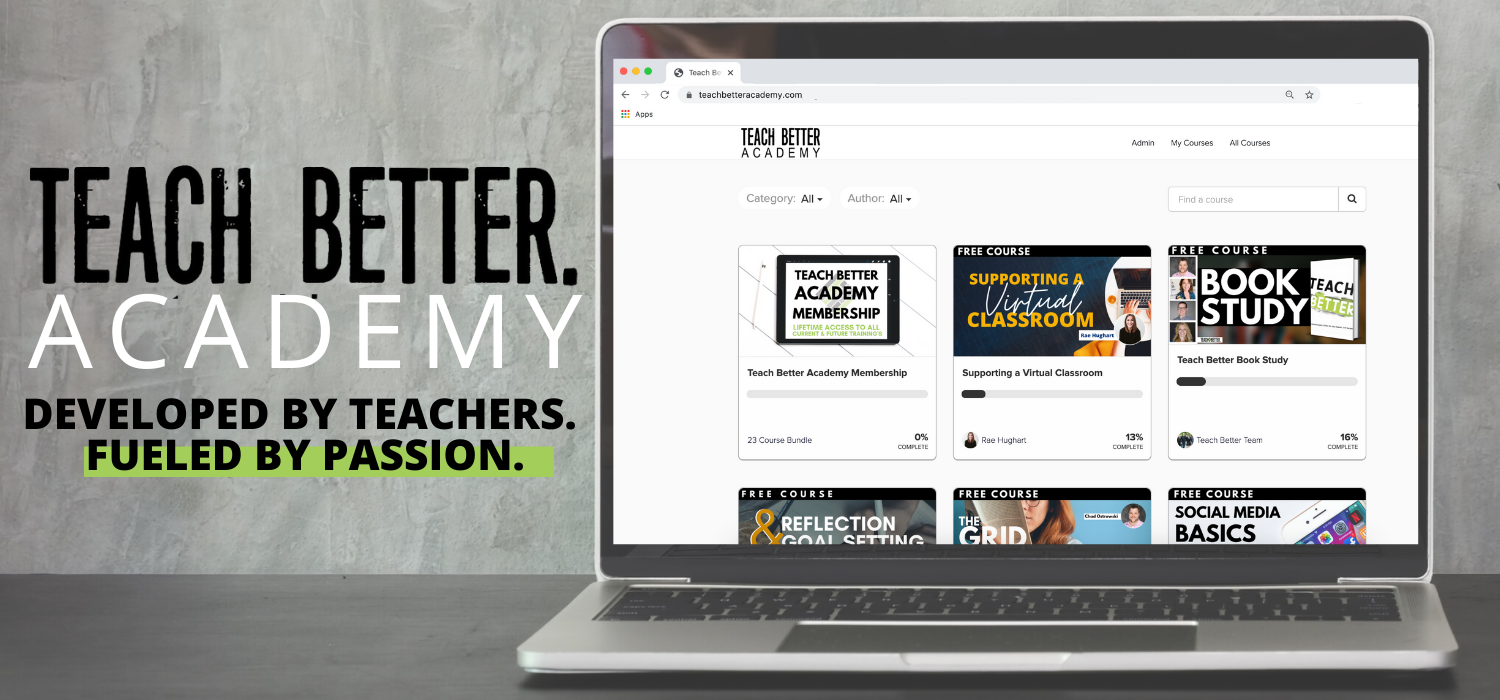 INCLUDED IN YOUR TEACH BETTER ACADEMY MEMBERSHIP
Get instant access to ALL our online courses for just $9/month!
When new courses come out, you'll get instant access to them as well! Your price never changes!
INCLUDES 3 COURSES
TIME MANAGEMENT 101
Your time is valuable. We all know this, yet most of us struggle to confidently say we know where all of our time goes, how well we utilize our time, or whether we're spending it on the right things. During this course, we'll dive into some simple, yet powerful, exercises that will allow us to determine where our time should be going, and put practices in place to allow us to more efficiently and effectively utilize the time we have to accomplish the things that are important in our lives, both personal and professional.
Whether you are a teacher, an administrator, an entrepreneur, or the manager of your household, these techniques will help you better understand your time, and therefore, manage it better.
USING SOCIAL MEDIA TO GROW YOUR NETWORK
Social Media continues to be an avenue to connect and learn. However, no one said it would be easy!
In this course, we will go through simple tips and tricks for creating your social media profile and ensure you are sharing the right message with your network as you use social media platforms to grow your network and learn alongside experts in the field! Get ready to do some deep thinking!
INCREASING YOUR IMPACT: WRITING A BOOK TO SHARE YOUR STORY
Thinking about writing a book? Good! Because you have so much value to share! You've tried so many things, made plenty of mistakes, had a ton of success, and learned so much during your time in education. Now it's time to increase your impact by sharing that journey, your story, with others!
But where do you start? How do you organize all your thoughts? What kind of timeline do you need to lay out? What else goes into the process of creating a book? How do you pitch your book to a publisher? What does a publisher even do? Should you just self-publish instead?
So many questions! So much to do! You don't have to do it alone! Let's dive into it all!
In this course, we'll explore why you should consider writing a book, how to plan and execute your writing, realistic goals and expectations you should set for yourself, and how to get your story published.
You have a story to share. We want you to raise your voice. Let's go on this journey together!